The Ups And Downs Never Stop
(Who knew I would battle with depression then breast cancer?) 
In May 2019, I was feeling great and looking forward to another season at our cottage. I probably should have mentioned earlier, that over the last year, I found a small marble size lump on my left breast. I went to my doctors several times and had ultrasounds too. They found nothing alarming. No pain, no tenderness. As I continued to keep an eye on it, I asked for a mammogram that April. It was booked within the week. I remember I was instructing and forgot to turn my phone off during my class. I quickly went over to turn it off and saw that it was Gamma Clinic.
While instructing I had a sinking feeling in my stomach. As soon as my class finished, I called the clinic for my results. They said they needed me to come in for more images. I was rebooked within a few days and went for my second mammogram. (Not fun for anyone who has not had the pleasure of experiencing it.)
I honestly do not know what is worse, having bigger boobs and having them squished, or having little boobs and them trying to find something to squish!
My Breast Exams
After a very painful experience, the exam technician said I should meet her in the next room for an ultrasound. It felt like I laid there, probed for hours. Two days later, I got a call from my doctor who wanted to see me as soon as possible. During my appointment, she explained that there was a lump in my left breast. Not the marble size lump smooshed in the machine, but a different lump embedded close to my pectoral muscle. She scheduled another biopsy for two weeks later.
Without going into details, there were complications and I almost fainted from the experience. Fortunately, my mom was waiting in the reception area. She had to help get me dressed, since I couldn't lift my arm and I felt dizzy. I had another appointment with the Oncologist booked for ten days later. The nurse told me not to be alarmed. She said every patient who has a breast biopsy has a follow up appointment with an Oncologist. They did encourage me to bring someone to my appointment.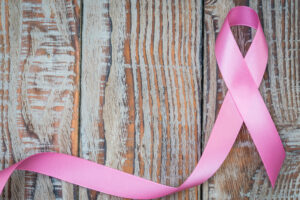 As You Can Probably Guess, I Was Diagnosed With Stage 1 Breast Cancer
On Tuesday, May 28th, both my husband and I were speechless and in disbelief.
I live a healthy, active lifestyle, so how could I get the Big C?
My surgery was booked for 2 weeks later on June 11th. After telling our boys, families and close friends, I could truly put it out of my mind. I kept myself extra busy over those two weeks. June 11th came fast, and I had mixed emotions; I was super nervous, but I also wanted to have the surgery to be 'rid' of the tumor ASAP. Surgery went well as my husband drove me home. And even though I was heavily sedated, I had a pretty good evening and slept well.
Another Terrifying Diagnosis
The next day I had a Skype call with my surgeon. He explained that he removed the tumor and the five lymph nodes that had cancerous cells. He was pleased by how things went. The next twelve days, the discomfort, swelling and inability to use my left arm set in. Luckily, I am right-handed. But have you ever tried showering, blow drying your hair, or getting dressed without the ability of moving your arm higher than chest level?
Twelve days later, I was able to somewhat dress myself in oversized shirts and stretchy pants. On Monday June 23rd, we had a follow up appointment with my surgeon to go over the analysis of the tumor. We were shocked when we learned I had breast cancer, but to say we were blown away was an understatement after hearing that I had another small tumor. I was booked for surgery less than 14 hours away on June 24.
Fortunately, My Second Surgery Went Well, And The Recovery Was Much Easier Since They Didn't Need to Take Out More Lymph Nodes.
It was the Tuesday of the last week of school, my son's 12th birthday was on Thursday and I was heading up to our cottage to recover for two weeks with my boys. I could only do most of the things I would usually do up north, but felt grateful; there was my cottage to escape to. I had two separate appointments with both the Radiation and Chemo Oncologist. The Radiation Oncologist, who I met first, had no bed side manners and asked me when my next surgery was. My husband and I looked at each other and did not know how to respond. I said, "You know that I already had two surgeries: June 11 and 24th, right?" He said, "Yes, but with the results of both surgeries and the location of the second tumor, you will need another surgery and likely a full mastectomy!"
I Felt Sick To My Stomach, Confused, Scared, And Mad At How The Radiation Oncologist Talked To Me.
Fortunately, my appointment with the Chemo Oncologist went much better. He was personable and explained things without using jargon as he said; "I will work with my surgeon so that everyone is on the same page". He wanted me to focus on my treatments and get me through that successfully. That Friday we had friends coming to our cottage for the weekend. I remember crying for half the ride—the reality of the last seven weeks and the news of my treatment schedule settled in. My chemotherapy started August 3rd, biweekly for four treatments and then weekly for 12 sessions. If all went well and on schedule, I would finish exactly a week before Christmas.
My First Two Treatments Went Better Than Expected.
I had both treatments on a Wednesday and then headed up to our cottage for a week's holiday. The first week of school, I had my 3rd treatment and our week ended with both boys in hockey tournaments. Fortunately, my mom helped me with one son, while my husband coached my eldest son in another city. I felt tired all the time and had trouble driving long distances.
Despite everything, I continued to instruct and do work assignments and my usual daily activities. I remember having trouble sleeping for a few nights in a row and then one night I worried too much. I did not sleep at all. The next morning, I was wrecked, sitting on my kitchen floor, feeling so overwhelmed that I could not think straight. I knew the signs and said to myself, "Here I go again, down the rabbit hole!" So I made an appointment with my counsellor and doctor for later than week.
I Was in Denial That The Cancer Influenced Me.
I was not sure why I was feeling this way. But my battle with depression and breast cancer took its toll on me. There was no change in my medication. And four days ago I seemed fine(?) Friends and family were saying, "Jenn, you are going through chemotherapy, lost your hair, have no energy… it is completely normal to get down." I felt I had handled the news, my two surgeries, and my treatments with grace. It did not take long for my anxiety and depression to hit an all-time low. My doctor needed to prescribe additional medication to help reduce my anxiety, over-worrying, and get me to sleep.
I decided that I needed to take a medical leave from work, as I simply did not have the strength or motivation to prepare for my classes. This was the battle of depression and breast cancer.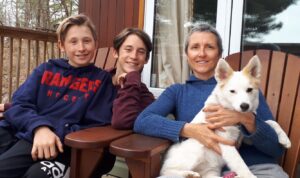 I Lost Interest in Eating, And Coupled With The Chemo, I Was Soon Under 100 Pounds
Fortunately, my treatments were going well, and my body was reacting exactly how my Oncologist was hoping. Yet it was my mental state that was concerning my friends and family. I missed a close friend's 50th birthday party, Christmas parties and other social gatherings. There was no way I could imagine trying to hold an intelligent conversation; Embarrassed about how I looked, I had no energy to make myself presentable.
Christmas was tough when you battle depression and breast cancer; from shopping, hiding our "Elf, Quinn" every night in a new spot, wrapping gifts, and trying to make it special for my boys! Fortunately, I started to feel better after New Year's, and each day after I was more 'myself'. I started to cook nutritious, healthy meals, and started working out daily. It was humbling how much strength I had lost over the last three months of little physical activity. It felt amazing to be moving again! I was so happy to be enjoying the things that make 'me' who I am; active, social, cook, mom, wife, daughter, sister, friend, instructor, and consultant.
The Aftermath
After my chemotherapy finished, I had a month to let my body get back to normal before my radiation started on Jan 20th. Since my doctors were trying to avoid another surgery, my radiation treatments were going to be intense and strong. I had 33 treatments in total, five days on, two days off. For the first couple of weeks, other than feeling exhausted, I was OK. After two weeks, my skin started to burn, blister and swell. By the end, it hurt to wear any tops, as it would rub off my blistering skin and leave it raw. OK, enough of the gory details. I had my last radiation treatment on Thursday, March 5th and enjoyed an early (my new bedtime was between 9-10 p.m.) celebration with my family.
My healing began. Fortunately my skin improved much quicker than I expected and I was optimistic that I would be able to go back to Instructing at Goodlife on March 16th. Sadly, I received an email from our Goodlife CEO that, due to Covid-19, Goodlife closed! A part of me felt a little relieved. My skin had not completely healed and my energy and strength levels were nowhere near what they were in September when I last taught.
My Battle With Depression And Breast Cancer Turned Pain Into Purpose
I enjoyed the extra time with my boys being off from school, and not having to go to the hospital daily. I continued to let my body get back to normal. However, no surprise with my personality, I was getting antsy by the 3rd week of March. My confidence came back. I missed my Goodlife members and socializing with friends and family. I needed to find something that gave me 'purpose', something I felt passionate about and believed in. So I reached out to two close Goodlife friends to learn more about Neora, a Holistic, all natural, vegan based Anti – Aging, Health, Hair and Skincare line.
Both had been very successful as Brand Partners; they earned All Inclusive trips, Lexus Car Allowances, Bonuses, weekly commissions, and free products monthly! However, the most attractive part for me, was the FUN they were having. I would always see posts of them getting together for cocktails, coffee dates, parties, networking events, training sessions etc. I was desperately needing daily interactions, even though it was now through social media platforms with Covid-19, self-isolation restrictions.
Since I am the opposite of "Salesy"and no social media guru, I had my doubts that this was what I needed. Fortunately, they encouraged me and explained that this is a 'family feel' company that is supportive, fun, and amazing at providing as much or as little training that you want.
I Decided to Try Something New
I slept on it for two days but was constantly thinking about it. Then I took the plunge and said, worse case, I get only three customers, qualifying me for $200 credit of product. With amazement, I did that in just five days and placed my 12th order on April 30th, qualifying me for Top PC Bonus, Commissions, and my $200 credit!! You should check out my website jennsmrz.neora.com, the products are amazing and truly work.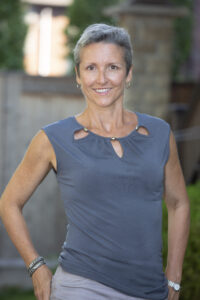 I'm Ready For My Next Adventure
I feel blessed that I am feeling better both mentally and physically and for the support my friends, family, Goodlife community and my newfound Neora Family has given me. Honestly, I would honestly take on Cancer again (hopefully I never have to) then go through another bout of anxiety/depression. I was lucky to 'get out' of my lows each time with amazing Mental Health programs, doctors, and the support from my family and friends. Thank you for reading, I apologize it was so long, but I cried through most of it.
About the Jenn Smrz:
Jenn Smrz is a mother of two active hockey boys, food lover, and depression and breast cancer survivor who came out stronger than ever! Contact Jenn directly on her HBM profile, or visit: jennsmrz.neora.com and Facebook at https://www.facebook.com/jennifer.smrz.7
Want more stories like, "My Battle with Depression then Breast Cancer"? Let us know!
~~~~~
Want to share your story? Join us at HBM. Become a member (it's free!) and submit your article to us. We want to help you and our online community at HollywoodBeautyMagazine.com.